Bonjour from Paris! Paris is a busy, dirty, beautiful, stinky, lovely city, full of good food, and lovestruck couples. Too much kissing. ;)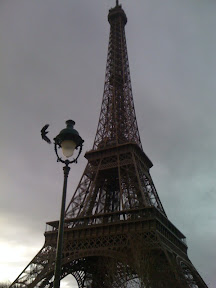 I find the skyline of Paris very beautiful; more beautiful than London. Most of the buildings are quite old, with few ginormous, unromantic, modern structures. The view from Notre Dame was particularly lovely.
The kids really enjoy feeding the pigeons. I don't think the pigeons mind much either.
Some highlights so far:
Visiting Victor Hugo at his apartment. He was not much for conversation. Very stony expression on his face. Haha (readers roll eyes).
Exploring the catacombs. Thousands of Parisians were moved here when the graveyards in Paris began overflowing into people's basements in the late 1800's. Gross, I know. But despite it being a little morbid down there, it has been made into a memorial to those who are buried there, now nameless. There are many plaques throughout with poignant sayings on them; at least, from what I could understand, they seemed rather thought-provoking.
Strolling through the Montpernasse graveyard on a sunny Sunday afternoon was, in a word, sublime. I visited Camille Saint-Saëns there.
Being fed Nutella crepes made by this master crepe-maker.
In keeping with the food theme: eating escargot...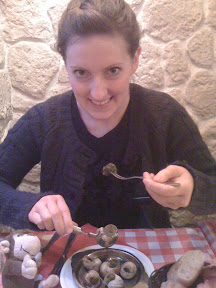 ...and frog legs!
Stefanie (who came to Paris with Tobias to visit me last weekend :D) was not as impressed with the amphibian appendages!
The creme brûlée, however, was heavenly.
Mmmmmmm. Bonne nuit!
- Posted using BlogPress from my iPhone